Messaging Gateway
Our customer needed a scalable solution to grow their fleet management/tracking business. TKLABS provided a customized Internet Appliance Server Solution that handles the increase in capacity, provides real-time management and reporting of the system while seamlessly integrating with their existing database application.
A system that could process TCP/IP and/or SMS messages sent from mobile units and register the payload (GPS coordinates) into an existing database application that in turn would plot them into a map. The system would need to allow for remote access and administration. Low licensing cost for the solution was also a requirement.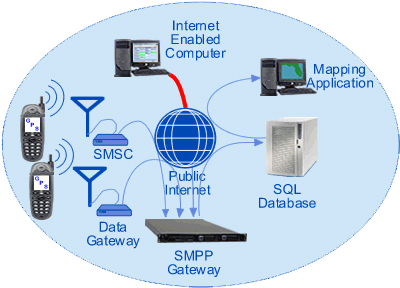 We designed and implemented a 100% Java solution that consisted of:
Mobile Messaging Gateway Subsystem
Attaches to multiple SMSCs. Receives HTTP Post messages with coordinates for processing. Monitors and restores SMSC connections. Provides email alarm notifications to administrators for non-recoverable connection failures. Maintains log files of the operations at several levels.
Processes incoming messages and populates a database with the payload. In this solution, mySQL was selected due to the more than adequate performance.
Secure Web Administration Interface Subsystem
Allows administrator to securely access the Gateway from any browser, manage SMPP/JDBC connections, look at logs. access/modify the database and even stop and start the Gateway. For this subsystem the Apache/Tomcat technologies provided a cost effective solution while maintaining desired efficiency and performance.